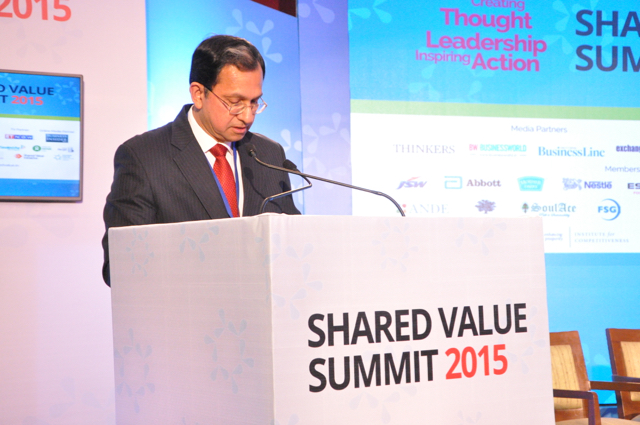 Sharing insights at the Shared Value Summit, Suresh Narayanan, Chairman and Managing Director, Nestlé India, highlighted that Nestlé is a 150 year old brand they are going to celebrate this landmark year of existence next year. This brand has build in a legacy of creating shared values.
He said, "In India our initiation goes back to more than hundred years and from the very beginning we have based of business practices on the principles of creating check value. For Nestlé creating shared value is based on the understanding business and long term social benefits go hand in hand, any business that thinks long term and follows sound business principles creates values for society.
It doesn't stop there, he added, "As a global leader we believe it is not only our duty or responsibility, but it is an opportunity to create long term positive value for society. We call this creating shared values."
He pointed out that for Nestlé, creating share value means providing safe and high quality products with commitment to sustainability, this include compliance with local laws, business  principles code of conduct and insuring the protection of natural resources for future use. "Creating shared value goes beyond compliance and sustainability amongst aiming to creating new and greater values for the society as also for our shareholders."
These activities are core to our business strategies and vital to our people community where we operate we actively seek engagement and partnership with stakeholders to enhance positive impact in this area and focus to managing our commitments to environmental and social and sustainability.
He pointed out, "Nutrition health and wellness is the core of our corporate strategy. We are committed to improving people quality of life through every stage through various innovations and continuously investing in Research and Development. A lot of work has been accomplished in this year. About decade and half ago, we announced to become world's leading nutrition health and wellness company, and since then globally Nestlé has invested closed to 20 billion Swiss francs.
He also highlighted, globally, Nestlé spends over 1.3 billion Swiss francs in research and development each year. This includes 45 developing products extensively consumed by lower income groups around the world.
He concluded by saying creating sustainable value which enables long term special progress at the same time, we are deeply committed to the fundamental tenet.
Read the original article: Click here