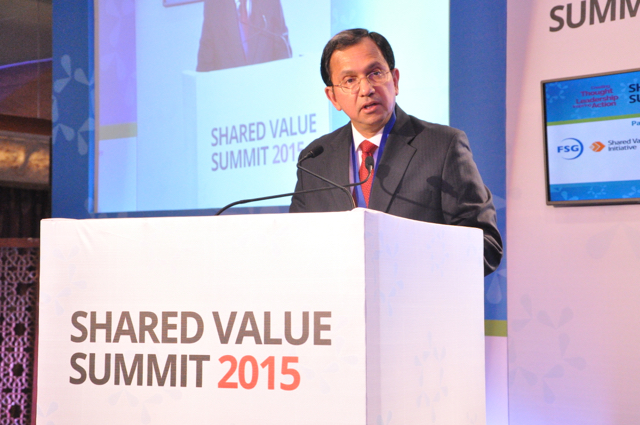 "In India our relationship goes back a 100 years and from the beginning we have based our practices on the principles of creating shared value based on the understanding that business and long-term social benefits go hand in hand," said Nestle India's Chairman and Managing Director, Suresh Narayanan, speaking at the Shared Value Summit 2015 in Gurgaon on Friday.
With its bestselling instant noodles brand, Maggi, back on the shelves in some cities, Nestle still seems to be licking its wounds and slowly wiping off the grime on its brand image. An approach which was clear in the carefully worded speech delivered by Narayanan.
Reiterating the narrative that has been deployed by the company about its commitment to quality, nutrition and wellness, Narayanan emphasised, "For us creating shared value is embedded in all parts of our business…This includes compliance with local laws, local principles, codes of conduct and ensuring the protection of natural resources for future use."
The Swiss giant which will be celebrating its 150th next year has had a tumultuous 2015 with Maggi being banned by food safety authorities in the country over allegations of the presence of lead and arsenic above the delimitation. In the ensuing chaos, competitors like ITC's Yippie brand has snapped up a share of the market and new competition has emerged with the launch of Patanjali's Atta Noodles. FSSAI has also opposed Maggi's entry by taking the issue to the Supreme Court.
"We are a nutrition, health and wellness company," said Narayanan, focusing on the positives and calling this a core part of its corporate strategy and talking bout the various nutritional awareness for adolescents and pregnant and lactating women, and sustainability activities undertaken by the company world-over.
"Globally Nestle spends over 1.3 billion swiss francs for R&D. This includes fortified products extensively consumed by lower income groups around the world. For example, in India we sell Rasa Kari Maggi which is fortified with iron at an affordable price of Rs 4 a packet," said the India head.
"Nestle can only prosper when the community around it thrives," he added.
Nestle had registered its first loss in 17 years, with its revenues down by 60 per cent due to the Maggi ban. Narayanan who was responsible for Nestle's success in places like conflict-torn Egypt was brought in to help the company tide over the copy waters of the Indian market in August.
Read the original article: Click here