Shared Value Initiative India: November – December 2016
Dear Colleague,

It is a delight for me to share the details about Shared Value Summit that was organized by Shared Value Initiative India, Shared Value Initiative, Institute for Competitiveness (India), & India Council on Competitiveness. The summit scheduled on November 18, 2016, at The Leela, Ambience Island, Gurgaon witnessed prominent thinkers and leaders from the government, corporates, academia, global institutions and social enterprises. They shared their perspectives, experiences and knowledge on the significant role of businesses in society. They also provided many real-life examples of business model changes happening around us and how it is creating value for the businesses, society and environment.

The summit had exciting panel discussions and deliberations on topics like "Shared Value Orientation as a Project or Enterprise. What works better?"; "Young Entrepreneurs Making a Difference"; "Inclusive Business Ideas and Challenges of Scale – Role of Large Corporates and Story Telling Session. Some of the highlights of the summit are mentioned below.

We always look forward to your continuous engagement with the initiative.

Wishing everyone Merry Christmas and a Happy New Year.

Regards
Sandeep Goyal
CEO, Shared Value Initiative India
HIGHLIGHTS
Shared Value Summit 2016
Keynote by Bibek Debroy, Member, NITI Aayog
Keynote by Justin Bakule, Executive Director, Shared Value Initiative
Keynote by Anil K. Gupta, Professor, IIM Ahmedabad
Keynote by Mohammad Yunus, Nobel Peace Prize Winner
Inclusive Business List 2016
Opinion Pieces: Shared Value in Media
Keynote Address by Bibek Debroy, Member, NITI Aayog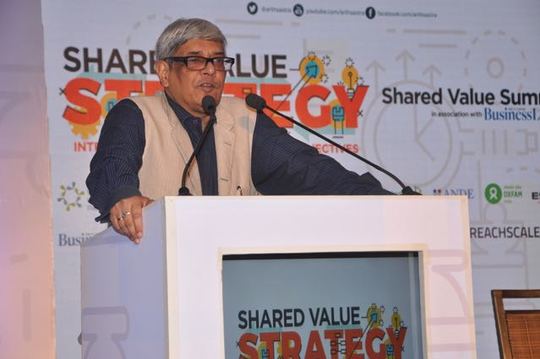 The inaugural address by delivered by Bibek Debroy, Member of NITI Aayog, who shared his views on development and governance in India. Citing examples from history, he explained that broader participation from citizens is always needed for governance to improve. For instance, the Consumer Protection Act 1986 was an outcome of repeated demands from NGOs and civil society. Likewise, even though it is the job of NITI Aayog to improve entrepreneurship throughout India, the government cannot do it alone. An inclusive approach involving all stakeholders is needed if the business environment in India has to change.
Keynote by Justin Bakule, Executive Director, Shared Value Initiative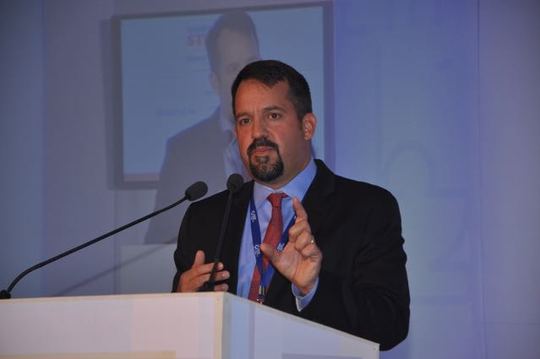 Justin Bakule, Executive Director of Shared Value Initiative, followed up these arguments with a strong message to of the large presence of business leaders that they had a huge opportunity of taking up leadership responsibility and bringing about social change in uncertain times especially when there is a global move against globalisation as evidenced by votes for Brexit and Trump. He argued that lack of partnerships and collaborations among companies as well as restricted focus on strategic planning towards social issues that intersect with their business are major barriers to the adoption of shared value.
Keynote by Anil K. Gupta, Professor, IIM Ahmedabad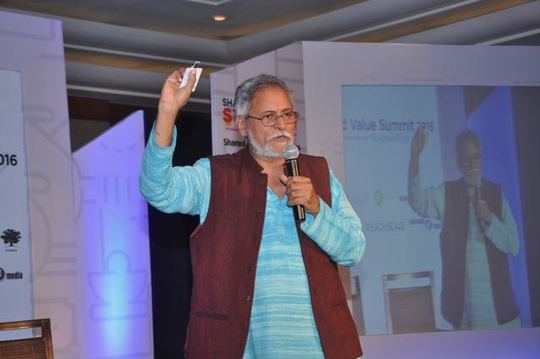 Prof. Anil K. Gupta from IIM Ahmedabad pointed out that creative communities and hungry corporations drive the world. He expressed surprise over the fact that Indian companies have grown less hungry for frugal innovation with time in contrast to major MNCs. He appealed companies to map unmet needs and look for innovative ways to address them. It is time to give innovators the needed voice, visibility, and velocity.
Keynote by Mohammad Yunus, Nobel Peace Prize Winner
Nobel Laureate Muhammad Yunus followed up Prof. Gupta's remarks with examples of several efforts on transforming the Bangladesh landscape with his innovative models of social entrepreneurship and pointed out how profitable business models are more sustainable solutions to societal issues than philanthropy or CSR.
Inclusive Business List 2016
The Inclusive Business List is launched with an aim to celebrate fifty such enterprises that are redefining the role of businesses in society and to encourage them to continue down the path of shared value creation….more
Recent opinion pieces on Shared Value
Thinking Beyond Bottomlines – Every now and then, capitalism finds itself at a crossroads. The devastation of two World Wars and the depression gave way to the Golden Age of Capitalism, a sustained period of high growth from 1945 onwards….more
How a Community-Based Strategy Helped Kirin Create Shared Value – When Japanese brewer Kirin launched its Creating Shared Value (CSV) Division in 2013, the link between competitive advantage and Corporate Social Responsibility (CSR) was a relatively new concept, and Kirin was the first corporation in Japan to institute CSV management….more
Discovery Health incentivizes doctors to get healthy for their own sake and that of their patients – Discovery Health, the administrator of the Discovery Health Medical Scheme, as well as 17 restricted medical schemes, is actively working to create a shared value healthcare system in collaboration with healthcare professionals to promote better health and better healthcare….more
Be a Part of The Initiative
Shared Value Initiative India (SVII) is the exclusive regional partner of the Shared Value Initiative. Shared Value Initiative's founders are Professor Michael E. Porter of Harvard Business School & Mark R. Kramer, Co-founder & MD of FSG.

SVII's objective is to bring the realization, understanding, adoption, and implementation of the best practices for creating shared value among the organizations operating in India.

Organizations can be partners/members of SVII through various membership tiers. You can learn more about membership at https://sharedvalue.in/membership/,or you can send me an email  at sandeep.goyal@sharedvalue.in
Shared Value Initiative India

www.sharedvalue.in

U – 24 / 8, DLF Phase – 3, Gurgaon – 122 002, Haryana, India